« previous: Paleo, Nursing school, and other excitement! | next: Heat? What heat? »
My last post was largely about our new diet and its positive impact on my health. So, when trying to eat natural foods, what's for dessert?
This is super easy & really delicious, so I wanted to share.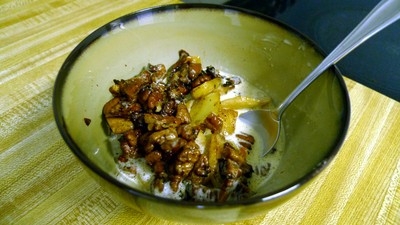 Here's what you'll need for two servings:
For the spiced apples:
2 apples
2 T butter
1 1/2 T raw honey
nutmeg
cinnamon
For the nutty topping
1 cup of pecans
1 T butter
1/2 T raw honey
cinnamon
nutmeg
For some extra deliciousness:
heavy whipping cream
2 frying pans
Peel, core, and thinly slice the apples. Put them into a frying pan with 2T of butter & turn heat on to medium. Sprinkle apples generously with nutmeg and cinnamon. Once the butter has melted, add 1 1/2 T of raw honey. The amount of honey and spice can be adjusted to your liking. Cook over medium heat until apples reach desired texture (Anthony likes them really soft & I like a little crunch).
When the apples are almost finished, prepare the nut topping. Melt 1T of butter over medium heat. Roughly dice pecans and toss into the pan with the butter. Add 1/2 T of raw honey and sprinkle with cinnamon and nutmeg. Allow nuts to toast for several minutes. Pour the apples into a serving bowl and top with toasted nuts.
Pour heavy cream over the entire dish. The cream gets really hot & it tastes amazing. I know that this isn't an option for folks that eat a strict Paleo diet & I'm not sure how coconut milk would work with this. We might try it in the future & I'll post an update if we do!
Also, you could probably substitute other fruit / spices that you enjoy. We'll definitely be trying this with peaches and pears some time soon.

Posted by
Jul 23, 2011
at
03:07pm
on
Comments:
Reply to this message here: