« previous: Tilapia with Scallops and Mushroms | next: Cheesy Herb Stuffed Mushrooms »
BBQ Chicken Salad - like TGIFriday's
| 2 replies
Anthony and I love to go out to eat. I mean, doesn't everyone? I'm pretty predictable when it comes to food; once I find something I like, I don't deviate much from it. Anthony has a much less picky palate & often opts to try something new.
A few months ago, Anthony decided to try the BBQ chicken salad at TGIFriday's & was instantly hooked.
Over the next couple of months, the salad came up in conversation several times before I decided to try and make it at home. Here's what you'll need:
Chicken Breast
Jack Daniel's BBQ Sauce
Lettuce (I use romaine)
Ranch Dressing
Tomato
Canned Black Beans (We usually use Goya)
Canned Corn
Sharp Cheddar Cheese
Pioneer Woman's Onion Strings (yum!)
This is so easy, but it requires a little bit of planning.
1. Slice onions as thinly as possible and soak them in either buttermilk or milk for at least an hour prior to making the salad (I don't measure -- I just pop the onions into a Ziplock bag, pour in enough milk to coat them, and stick them in the fridge).
2. Thoroughly rinse and strain black beans & place into the refrigerator to chill. Also strain and refrigerate corn.
3. After your onion straws have soaked for an hour, preheat your oven to 350 degrees. Filet chicken breast or pound it out to about 1/2 of it's original thickness with a meat tenderizer. Coat generously with BBQ sauce and cook for 25-28 minutes (until no longer pink inside, but still juicy).
4. In the mean time, clean, dry, and chop up about two cups of lettuce. Place the lettuce in a clean bowl and add ranch dressing a tablespoon or two at a time and mix until lettuce has a thin, even coat (or more if desired).
5. Wash and dice one whole tomato and add it to the bowl.
6. Add equal amounts of corn and black beans (about 1/4 cup each).
7. Grate about 1/4 cup of sharp cheddar cheese and add it to the top of the bowl. Cover the bowl with plastic wrap and refrigerate until hot ingredients are ready.
8. Prepare onion stings according to the instructions Ree Drummond (Pioneer Woman) provides. I typically omit the cayenne pepper & adjust the salt and pepper to taste. Truth be told, I no longer measure any of the ingredients anymore -- it's so simple and delicious.
9. Remove chicken breast from oven, dice into small chunks & place on top of chilled salad. I've been using about 1/2 a chicken breast per salad.
10. Top with hot onion straws and enjoy as soon as possible. : )
** Note: it's important that all components of the salad are cold, except for the chicken and the onion straws, which should be piping hot.**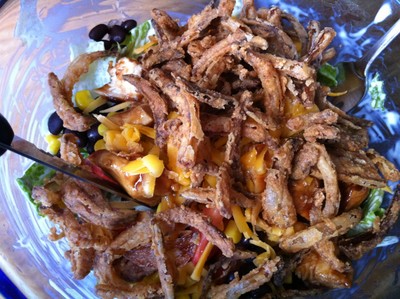 Sadly, TGIFriday's no longer makes this salad. It seems like every time Anthony finds a dish that he enjoys there, it's discontinued within a few months. I think it's a conspiracy. It's a good thing his wife loves him. : )


Posted by
Nov 15, 2010
at
09:36pm
on
Comments:
Reply to this message here: