« previous: BBQ Chicken Salad - like TGIFriday's | next: Thanksgiving Thoughts »
Cheesy Herb Stuffed Mushrooms
| reply
While perusing the menu at the Olive Garden a few months ago, Anthony expressed an interest in ordering stuffed mushrooms without clams. Unfortunately, the Olive Garden wasn't able to accommodate his request because the clams are part of a mixture that is prepared in advance. We had an awesome dinner anyway & the experience inspired me to learn to make stuffed mushrooms. In fact, I think we stopped on the way home so that I could pick up some essential ingredients: fresh herbs and a variety of delicious cheeses.
Here's what you'll need:
1 T chopped fresh Oregano
1 T chopped fresh parsley
1/2 t chopped fresh thyme
1 T + 1t fresh grated Parmesan cheese
1 T + 1t fresh grated Mozzarella cheese
1 T + 1t fresh grated Cheddar Cheese
(cheese measurements are approximate -- it was really hard to measure without packing cheese down!)
2 T Italian Bread Crumbs
6 large, fresh Crimini mushrooms
1/4 cup finely chopped onions
2 T olive oil
1 t butter
Fresh pepper
Garlic Powder
Directions:
Preheat Oven to 375 degrees.
Combine herbs, cheeses, and bread crumbs in a Ziplock bag. Shake to thoroughly mix & set aside.
Clean mushrooms. I usually peel mushrooms, because it makes me feel more confident about their cleanliness. Remove and finely dice stems. Toss stems and onions with olive oil & sprinkle with fresh ground black pepper and garlic powder. Add butter and sauté over medium heat until the onions are translucent (stirring frequently). Around this time, the kitchen begins to smell delicious. : )
Remove the frying pan from the heat & add herb / cheese combination to the onions and mushroom stems.
Arrange the cleaned mushrooms in a foil lined pan (tops down) -- I put a little olive oil under each to keep it from sticking. Place a heaping spoonful of stuffing onto each mushroom and pack down.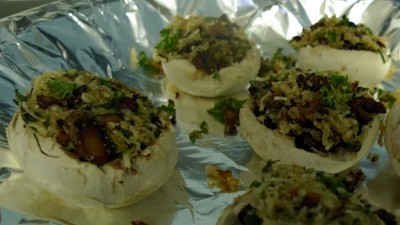 Hello, lovely.
Bake in preheated oven for 15 - 20 minutes until mushrooms are tender & topping is crispy. I stuck them in under the broiler for a few seconds to get the topping extra crispy.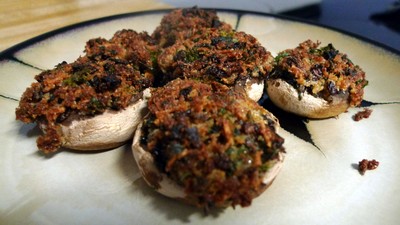 I wonder if these babies would be good with some marinara sauce?
I've made these a couple of times and for some reason, they were a little bit dry this time. I think it might have been because the mushrooms were less fresh; I definitely recommend using them as soon as possible after purchase.
Recipe adapted from Dragon's Herb Stuffed Tomatoes


Posted by
Nov 25, 2010
at
09:08am
on
Reply to this message here: