« previous: Sweet Potato Cake | next: A beautiful new life »
It's really hard to make healthy, quick meals while working and going to school. Because of this, I've been trying to use a little bit of time on each of my free weekends to stock our freezer with healthy, ready-to-eat foods. Of course, we are also interested in saving money, and Wegmans often has good deals on bulk meat in their "club pack" section. A few weeks ago, I bought a whole pork shoulder with the intention of making pulled pork. At just over a dollar a pound, we were able to make a lot of meals relatively inexpensively.
(We have also been buying club packs of ground beef to freeze chili and taco meat - it takes a little bit of work up front, but the return is ultimately well worth it).
A few years ago, my idea of pulled pork was throwing some onions in the crockpot with a can of coke and a bottle of BBQ sauce. This works just fine, but it was never really amazing. The recipe that we tried this time was almost as easy, had much less sugar, and was delicious.
Here's what you'll need:
3 tablespoons paprika
1 tablespoon garlic powder
1 tablespoon brown sugar
1 teaspoon mustard
3 tablespoons applewood smoked sea salt
1 pork roast, preferably shoulder of boston butt
3/4 cups of water
1-2 jars of Wegmans Kansas City BBQ sauce (or whatever variety you like. Wegmans has a great selection of gluten free BBQ sauces)
Mix the paprika, garlic powder, brown sugar, mustard, and salt together and smother all over the pork roast. Refrigerate overnight (or at least for a few hours).
Preheat the oven to 300 degrees. Put the pork roast into a pan, fat side up, and roast for 6 hours (Yeah, it's a long time to have the oven running. To make the most of it, we prepared a potroast and cooked it along side the pork -- yum).
Cook the pork until the internal temperature is 170 degrees at the thickest point and it can be torn apart with forks. Take the roast out of the oven and move it to a platter to rest.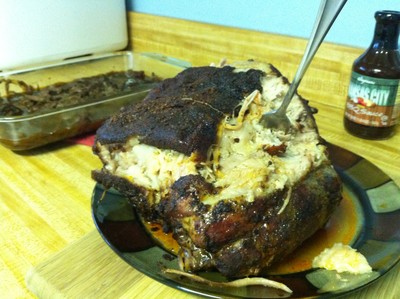 As you can see, we started to tear off some of the meat before Anthony took this picture. It was irresistible.
In the mean time, add the 3/4 cup water to the pan and scrape up the brown bits on the bottom of the pan. Add a jar of BBQ sauce (or more, depending on how much sauce you want on the meat). Pull the pork apart using two forks and place it into the pan with the sauce and juices.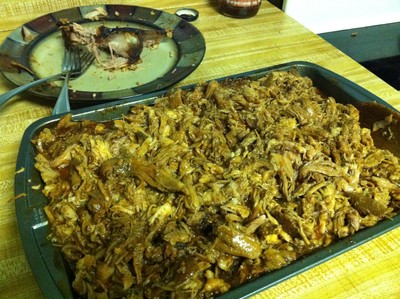 The final product. It makes a lot of meat, so thankfully this is really fantastic frozen and reheated.
Recipe adapted from Tyler Florence's pulled pork BBQ. Yum. : )


Posted by
Oct 15, 2011
at
02:04pm
on
Comments:
Reply to this message here: